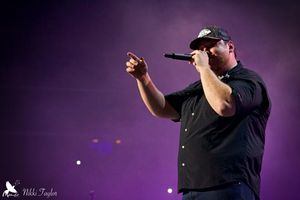 I'm finally getting a chance to sit down and write about my incredible experience this past Saturday at David Bergman's #ShootFromThePit Live Photography Workshop in Greensboro. 
As some of you know, I've always loved photography and a few years ago I started to become really passionate about it when I had to take a couple years off from playing saxophone because of the problems with my wrists. It became a new outlet for me and something I really wanted to learn as much as I could about, so getting this experience was truly a dream come true. 
If you're a photographer, whether it's just a hobby, you're a beginner or you've been doing it for years, I cannot recommend attending one of David Bergman Live Photography Workshops enough. It is well worth the money and you'll get an experience of a lifetime while learning from someone I consider one of the best in his field.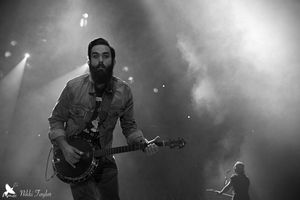 A little about the experience: We spent the evening learning from David, who is truly a wealth of knowledge. We had dinner at catering backstage before we prepared to shoot the show. And then it was time to shoot the show: we were allowed to shoot from all over the arena the entire show, including the opening acts, and not just the first couple of songs from the photo pit. I experienced shooting in the photo pit, behind the fans in the GA standing section, behind front of house on a platform, up high at the back of the arena, and we were each taken up on stage to shoot for a song. Truly an experience like no other. And throughout it all David was there giving feedback and suggestions. I'm honestly not sure I have ever learned so much in such a short amount time about anything.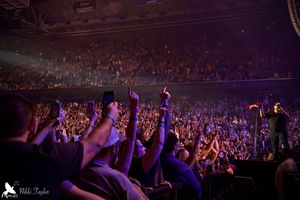 I also want to take a moment for some thank yous: 
Thank you to Luke Combs, his band, his management, his crew, and everyone else who is involved with the show for allowing David to host these workshops on your tour and for letting us into your world for a little bit. 
Thank you to Canon for loaning David with some amazing equipment for us to experience using. I was able to use a EOS-1D X Mark II Body with a Canon EF 24-105mm f/4L IS II USM Lens all night along with my own camera. #CameraGoals 
Thank you to the other two attendees, Luke and Jenna! It was great meeting you both and learning alongside you. 
Lastly, thank you David! None of this would even be remotely possible without you. I learned SOOO much from you in just a few hours and I promise I will be practicing everything I learned as much as possible. I look forward to hopefully attending more of your workshops in the future.